"The more you get messy and go through the routine of cleaning up together, the easier the process will be," Ginger Carlson
Child of Wonder: Nurturing Creativity and Naturally Curious Children
We made another mess yesterday- a haunted gingerbread house from a kit we get each year from dear Grandma Louise. I love to let my kids really do it instead of me doing it. This, of course, meant that it's not
quite
like the picture on the box, which makes the Martha Stewart craft lover in me shudder, but it does mean they really participate and use those fine motor skills instead of hanging back, following my instructions the whole time, or watching me do it.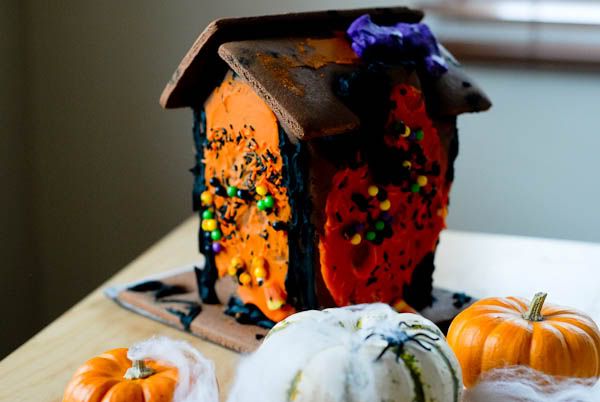 I decided to follow Melanie's idea and throw down a sheet before we got started. I've heard of this idea before, but I've never given it a try. It just seems easier to start instead of hunting around for a sheet. Now, I don't want to overstate, but at least for this project, the sheet investment made cleanup seriously take about 10 seconds. Loved it! Why don't I get my lazy butt up and take mess-prep more seriously?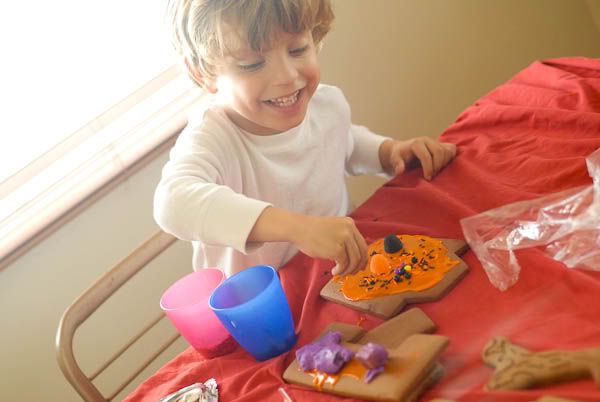 Other ideas are doing it outside, scheduling mess-time around baths and making a kid "handwash basin" for outside and inside and investing in a dustbuster. As I'm taking Katie's suggestion about resigning myself to messes I'm looking at ways to prepare accordingly for pre and post cleanup instead of being freaked out by it. As I let go of my anxiety, the door is opening to lots of projects I know my kids will love but I've avoided because of the mess factor- nut doughs, mudpies, papier mache, soap doughs, cloth sculptures, collages, and more! Of course, I'm going to have to put a limit, like Kristin suggests, to just once or twice a week, but I don't want to say never anymore. If anyone else has any mess strategy ideas, please (please. seriously.) share...
I've been doing
a lot of research
over the past couple months about ways to bring out the best in my kids and me and from the many books I've read so far I've come up with 10 "areas" or goals/objectives if you will. One of these is the
Explore, Discover, Learn
area. My kids (all kids) are wired for this, and it supports their development and overall happy-level when I find ways to fan that enthusiasm while keeping
my
sanity. For better or worse, messes are usually part of Explore, Discover, Learn so I better
learn
to work with them.
Next week I'm going to hit another area. I'm having a hard time choosing which one because they're all so good and all connect to each other, but I'll tackle this one next: Plan and Prepare