"He who every morning plans the transaction of the day and follows out that plan, carries a thread that will guide him through the maze of the most busy life. But where no plan is laid, where the disposal of time is surrendered merely to the chance of incidence, chaos will soon reign." Victor Hugo (I wish it were easier)
At any given moment I've got about 100+ things I could be doing that are all good: cleaning my oven/sink/tub/dining room chairs/piano, returning phone calls and emails, making dentist visits, preparing meals, headstarting on Christmas shopping, playing/teaching/reading/singing with my kids, serving in my community, drawing with my kids, organizing photos...
How do I choose the best one?
The best way I've found is to plan. When my vision extends to a global perspective I make the best plans; I can plan my goals into practice, I can plan my errands with efficiency, I can meet my kids needs, I can prioritize and balance. In contrast, when I decide in the now I can't see too far because the moment waves at me with its demands- fix me! clean me! create me! watch me! I see the plants I haven't watered yet, that shelf that needs organizing, that scrapbook page I want to finish and the children I need to bathe so I attend to what's in front of me, rarely getting beyond my line of sight. So the good gets done, the better not so much.
Of course with chaotic, unpredictable, multiple-variables kid-life no plan at this stage will ever
get followed exactly
. Some people think that unpredictability is solid grounds to not bother with planning right now, others feel like it's too depressing to see everything you didn't get done. But the more I plan, the more I realize how desperately this time of my life really does need it, probably more so than any other, because there's so much more at stake.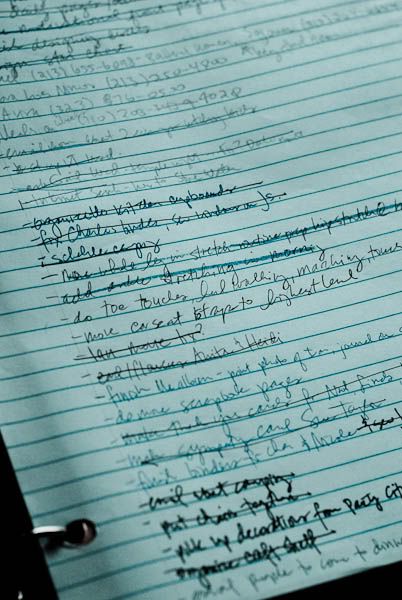 So I make to-do lists when something pops in my head or when I review my goals and look at my continuously-updated
ideas page
, then I transfer those to-do list items onto the time map of
daily schedule pages
, all of which I keep in my handy
binder
which saves my life every day. I have a big meeting with Ian once a week where we go over our calendar and objectives. Each night I create the plan for the next day.
These
daily-page tools
inspired from
Steady Days
are fantastic, but Ian and I have only had two meetings, so I can't
really
say we're doing this. Even as I see how much smoother my days are going when I plan them with purpose, how satisfied I am that we made it to the park again and I found a spot in my schedule to pick up the
Caleb Box
, and take Halloween costume photos and write sympathy cards and pick up thank you gifts and do so many little wonderful things on my list, I also know
it's going to be hard to keep this up
. I've talked about this before, but there are a
billion
legitimate excuses to just slack off, to let go of Hugo's thread and surrender to the chaos of the day. Plus, nobody is watching me, nobody is giving performance reviews or salary increases, NOBODY REALLY CARES! Where do I find that strength to continue day after day to plan to give my best to my kids and my family, the most important job I'll ever have, when it's really easy to skip it?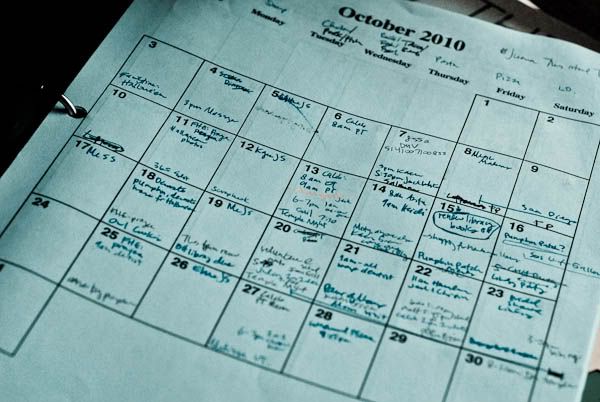 Does anybody have any ideas for what keeps you motivated? Seriously, how do moms and anybody stay motivated? How do you get through the pulls and tugs and dead ends and frustrations and chaos to give that little bit of extra effort to make plans and goals and follow them when tons of things are working against you? Is this something that can really be done?